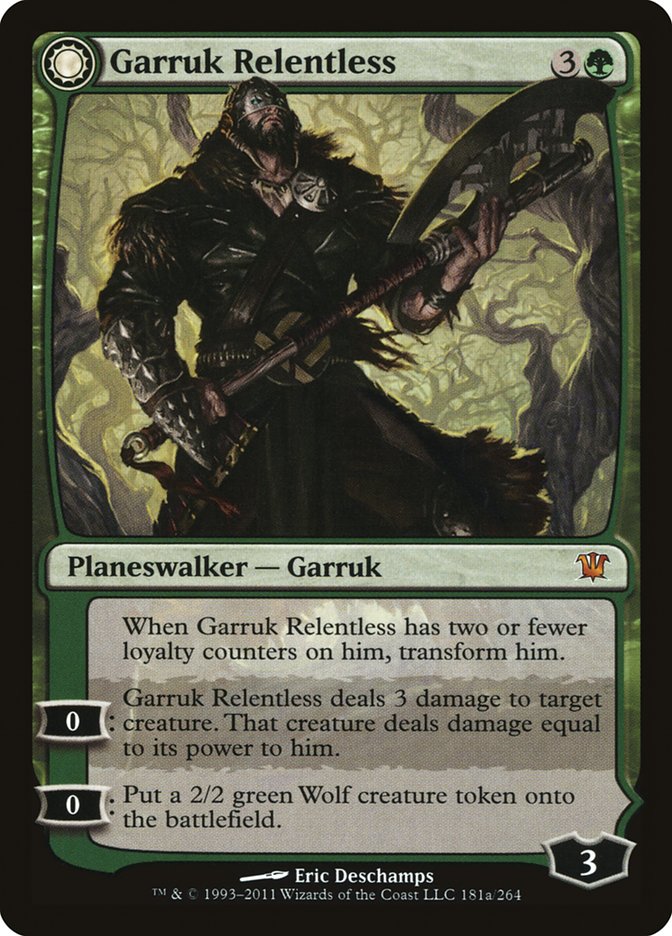 Garruk Relentless
{3}{G}
Legendary Planeswalker — Garruk
When Garruk Relentless has two or fewer loyalty counters on him, transform him.
0: Garruk Relentless deals 3 damage to target creature. That creature deals damage equal to its power to him.
0: Create a 2/2 green Wolf creature token.
Loyalty: 3
Garruk, the Veil-Cursed
Color Indicator: Black and Green Legendary Planeswalker — Garruk
+1: Create a 1/1 black Wolf creature token with deathtouch.
−1: Sacrifice a creature. If you do, search your library for a creature card, reveal it, put it into your hand, then shuffle.
−3: Creatures you control gain trample and get +X/+X until end of turn, where X is the number of creature cards in your graveyard.
Illustrated by Eric Deschamps
Standard

Not Legal

Alchemy

Not Legal

Pioneer

Not Legal

Explorer

Not Legal

Modern

Legal

Brawl

Not Legal

Legacy

Legal

Historic

Legal

Vintage

Legal

Pauper

Not Legal

Commander

Legal

Penny

Legal
Only creatures you control when the third ability of Garruk, the Veil-Cursed resolves will receive the bonus. Creatures that enter the battlefield or that you gain control of later in the turn won't be affected.

(2011-09-22)

You don't add or remove loyalty counters from Garruk Relentless when he transforms into Garruk, the Veil-Cursed. In most cases, he'll have one or two loyalty counters on him.

(2011-09-22)

You can't activate a loyalty ability of Garruk Relentless and later that turn after he transforms activate a loyalty ability of Garruk, the Veil-Cursed.

(2011-09-22)

Garruk Relentless's first ability is a state-triggered ability. It triggers once Garruk has two or fewer loyalty counters on him and it can't retrigger while that ability is on the stack.

(2011-09-22)
The second ability of Garruk, the Veil-Cursed doesn't target a creature. However, when that ability resolves, you must sacrifice a creature if you control one.

(2011-09-22)

The number of creature cards in your graveyard is counted when the third ability of Garruk, the Veil-Cursed resolves. Once the ability resolves, the bonus doesn't change if that number changes later in the turn.

(2011-09-22)

For more information on double-faced cards, see the Shadows over Innistrad mechanics article (magic.wizards.com/en/articles/archi…).

(2016-07-13)