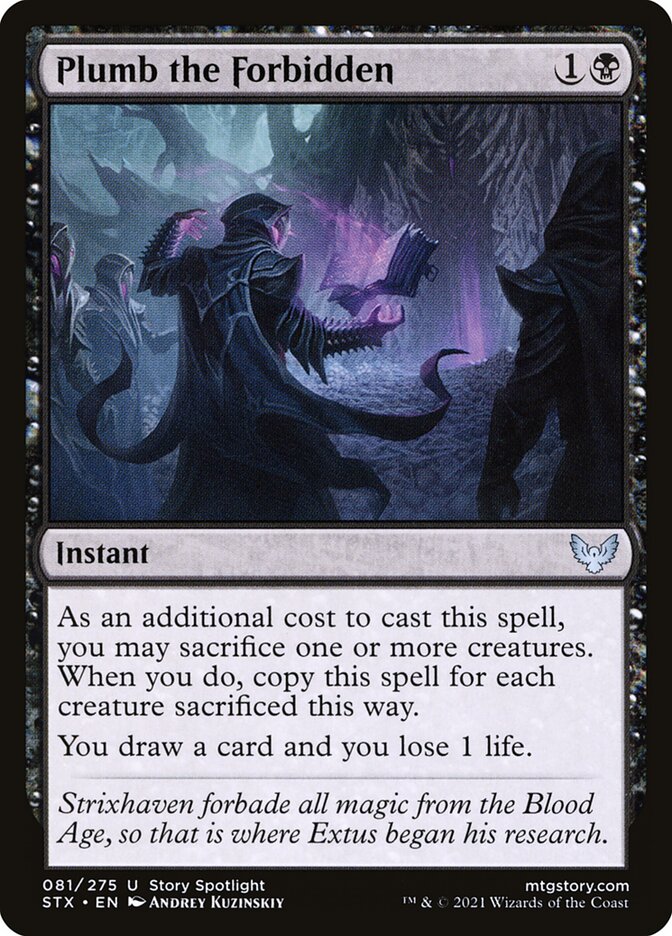 Plumb the Forbidden
{1}{B}
Instant
As an additional cost to cast this spell, you may sacrifice one or more creatures. When you do, copy this spell for each creature sacrificed this way.
You draw a card and you lose 1 life.
Strixhaven forbade all magic from the Blood Age, so that is where Extus began his research.
DailyMTG Story Spotlight
Illustrated by Andrey Kuzinskiy
Standard

Not Legal

Alchemy

Not Legal

Pioneer

Legal

Explorer

Legal

Modern

Legal

Brawl

Not Legal

Legacy

Legal

Historic

Legal

Vintage

Legal

Pauper

Not Legal

Commander

Legal

Penny

Not Legal
If you sacrifice a creature with a magecraft ability to cast Plumb the Forbidden, that creature's ability will not trigger.

(2021-04-16)
If you copy Plumb the Forbidden multiple times, each magecraft ability of a creature you control will trigger that many times.

(2021-04-16)