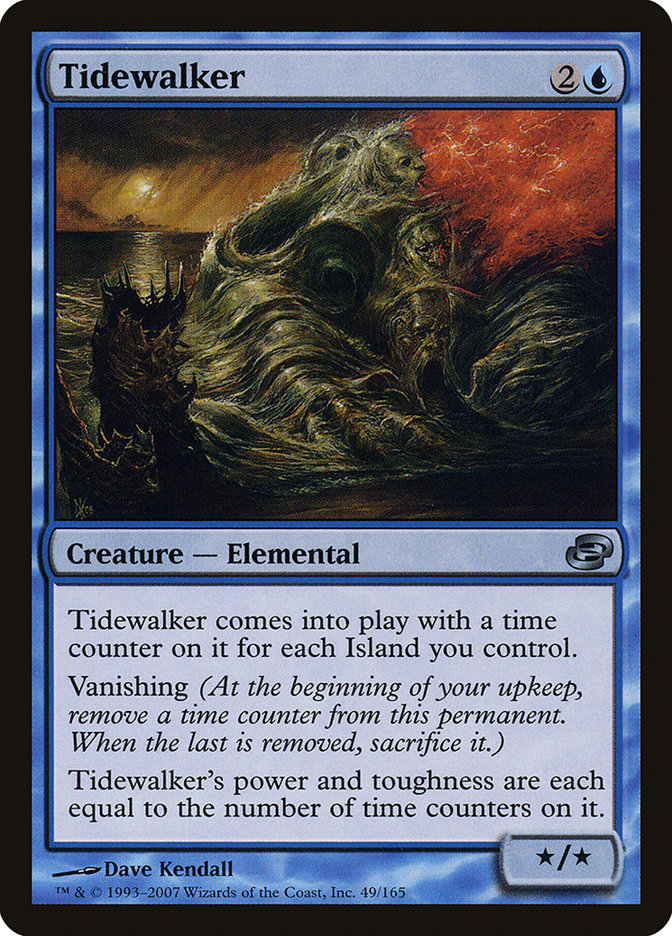 Tidewalker
{2}{U}
Creature — Elemental
Tidewalker enters the battlefield with a time counter on it for each Island you control.
Vanishing (At the beginning of your upkeep, remove a time counter from this creature. When the last is removed, sacrifice it.)
Tidewalker's power and toughness are each equal to the number of time counters on it.
*/*
Illustrated by Dave Kendall
Standard

Not Legal

Alchemy

Not Legal

Pioneer

Not Legal

Explorer

Not Legal

Modern

Legal

Brawl

Not Legal

Legacy

Legal

Historic

Not Legal

Vintage

Legal

Pauper

Not Legal

Commander

Legal

Penny

Legal
Notes and Rules Information for Tidewalker:
Unless something is boosting Tidewalker's toughness, when the last time counter is removed, it will be put into the graveyard as a state-based action for having 0 toughness before it can be sacrificed as the result of vanishing.

(2007-02-01)
If you don't control any Islands when Tidewalker enters the battlefield, its vanishing ability has no effect. (It enters the battlefield with no time counters on it, so neither of the vanishing triggers can trigger. See "Vanishing" in the General Notes section above.) On the other hand, it will be 0/0 and will be put into its owner's graveyard unless something is boosting its toughness.

(2007-02-01)