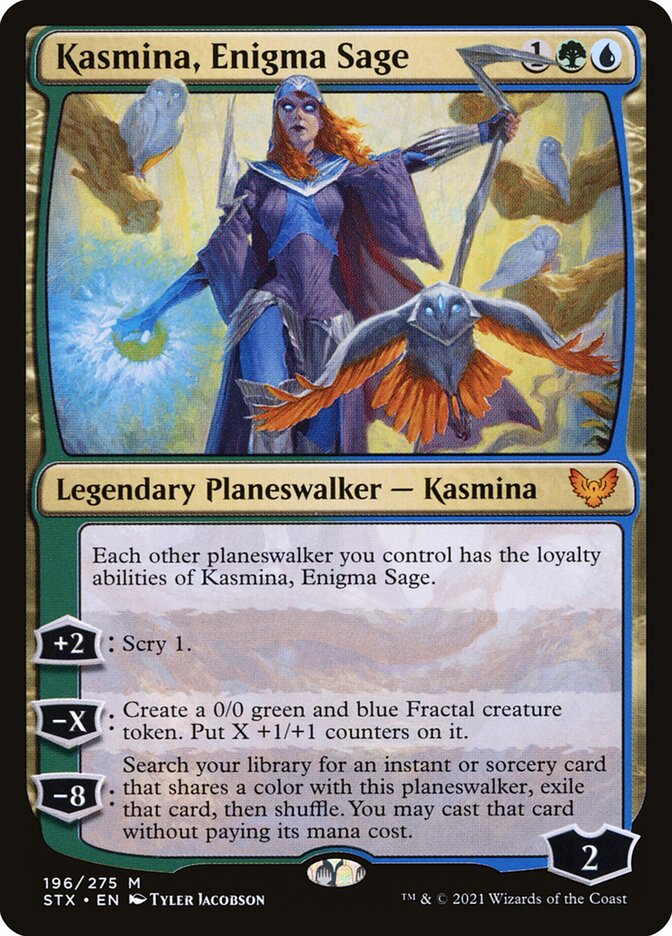 Kasmina, Enigma Sage
{1}{G}{U}
Legendary Planeswalker — Kasmina
Each other planeswalker you control has the loyalty abilities of Kasmina, Enigma Sage.
+2: Scry 1.
−X: Create a 0/0 green and blue Fractal creature token. Put X +1/+1 counters on it.
−8: Search your library for an instant or sorcery card that shares a color with this planeswalker, exile that card, then shuffle. You may cast that card without paying its mana cost.
Loyalty: 2
Illustrated by Tyler Jacobson
Standard

Not Legal

Alchemy

Not Legal

Pioneer

Legal

Explorer

Legal

Modern

Legal

Brawl

Not Legal

Legacy

Legal

Historic

Legal

Vintage

Legal

Pauper

Not Legal

Commander

Legal

Penny

Not Legal
Each other planeswalker you control gains Kasmina's loyalty abilities in addition to their own. For each planeswalker you control, you may still activate only one of that planeswalker's loyalty abilities per turn.

(2021-04-16)
When you activate Kasmina's last loyalty ability on another planeswalker, you search your library for a card that shares a color with that planeswalker, not with Kasmina. You can't search for a colorless card, even if the planeswalker is colorless.

(2021-04-16)