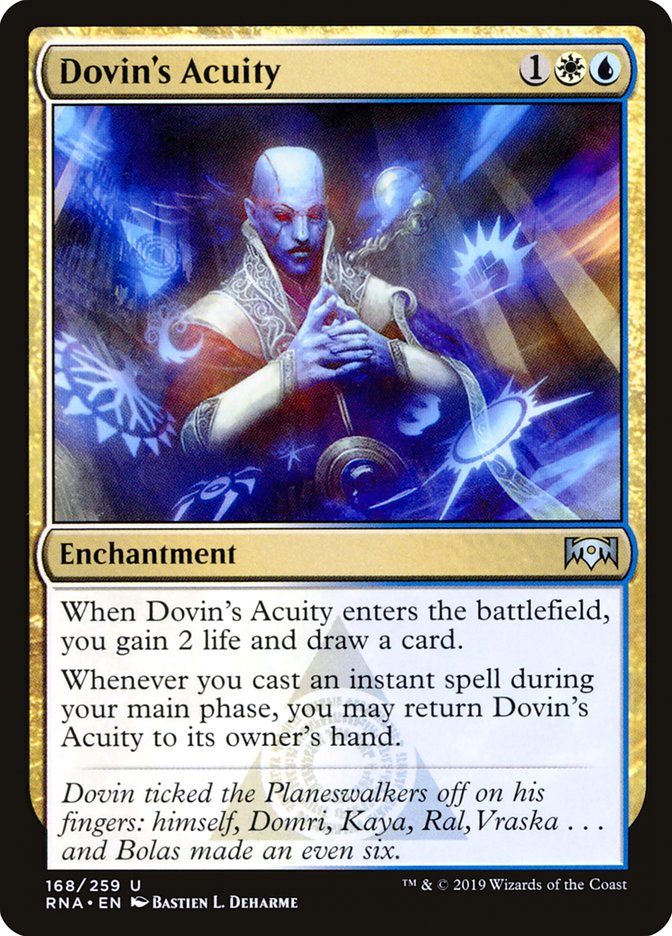 Dovin's Acuity
{1}{W}{U}
Enchantment
When Dovin's Acuity enters the battlefield, you gain 2 life and draw a card.
Whenever you cast an instant spell during your main phase, you may return Dovin's Acuity to its owner's hand.
Dovin ticked the Planeswalkers off on his fingers: himself, Domri, Kaya, Ral, Vraska … and Bolas made an even six.
Watermark: Azorius
Illustrated by Bastien L. Deharme
Standard

Not Legal

Alchemy

Not Legal

Pioneer

Legal

Explorer

Legal

Modern

Legal

Brawl

Not Legal

Legacy

Legal

Historic

Legal

Vintage

Legal

Pauper

Not Legal

Commander

Legal

Penny

Legal
Notes and Rules Information for Dovin's Acuity:
The second ability of Dovin's Acuity resolves before the spell that caused it to trigger. It resolves even if that spell is countered.

(2019-01-25)
The second ability of Dovin's Acuity triggers only if it's on the battlefield. It won't return from your graveyard.

(2019-01-25)