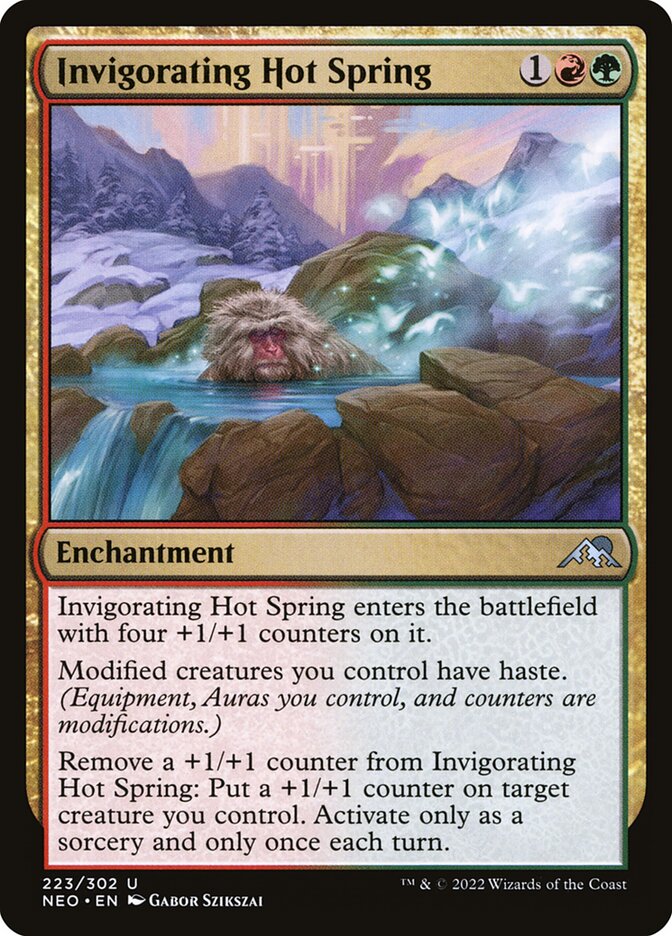 Invigorating Hot Spring
{1}{R}{G}
Enchantment
Invigorating Hot Spring enters the battlefield with four +1/+1 counters on it.
Modified creatures you control have haste. (Equipment, Auras you control, and counters are modifications.)
Remove a +1/+1 counter from Invigorating Hot Spring: Put a +1/+1 counter on target creature you control. Activate only as a sorcery and only once each turn.
Illustrated by Gabor Szikszai
Standard

Legal

Alchemy

Legal

Pioneer

Legal

Explorer

Legal

Legacy

Legal

Historic

Legal

Vintage

Legal

Pauper

Not Legal

Commander

Legal

Penny

Legal
An Aura controlled by an opponent does not cause a creature you control to be modified.

(2022-02-18)

A creature with a counter on it is considered modified no matter what kind of counter it is or which player put it on that creature.

(2022-02-18)
A creature that is equipped is considered modified no matter who controls the Equipment that's attached to it.

(2022-02-18)

Only creatures can be modified. If a modified creature stops being a creature, it is no longer considered modified.

(2022-02-18)