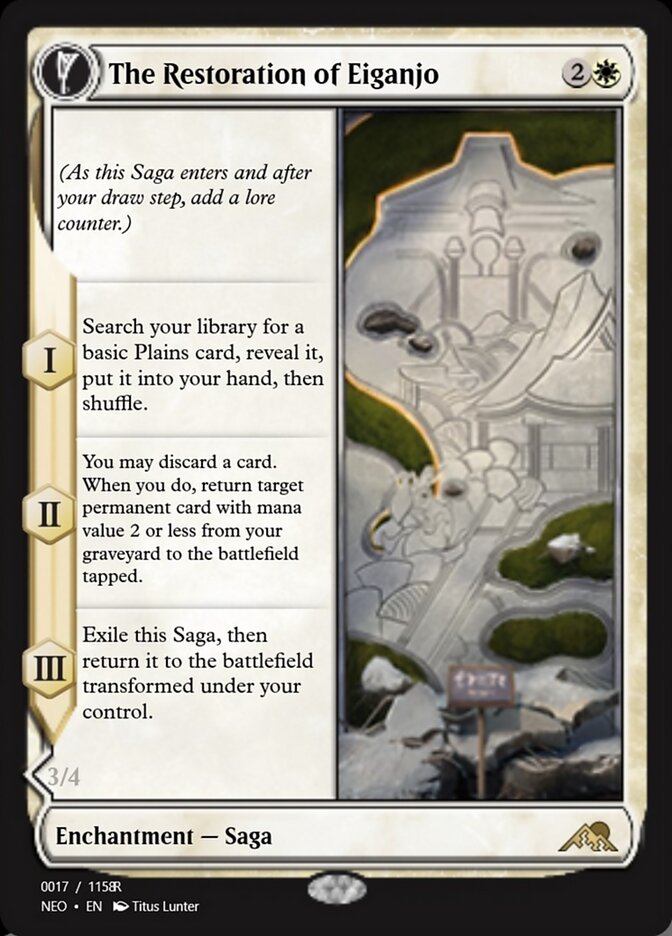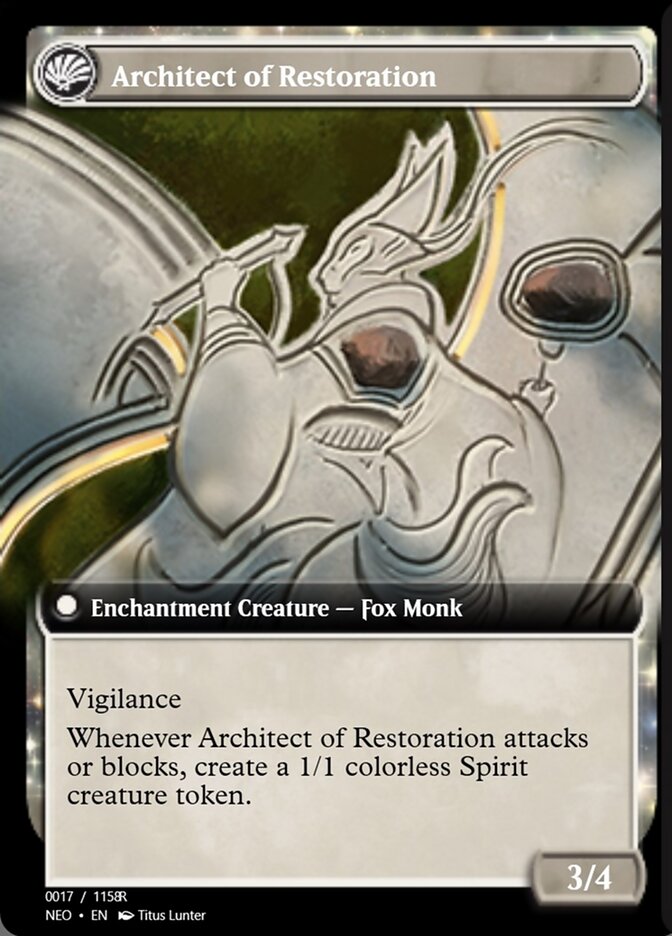 The Restoration of Eiganjo
{2}{W}
Enchantment — Saga
(As this Saga enters and after your draw step, add a lore counter.)
I — Search your library for a basic Plains card, reveal it, put it into your hand, then shuffle.
II — You may discard a card. When you do, return target permanent card with mana value 2 or less from your graveyard to the battlefield tapped.
III — Exile this Saga, then return it to the battlefield transformed under your control.
Architect of Restoration
Color Indicator: White Enchantment Creature — Fox Monk
Vigilance
Whenever Architect of Restoration attacks or blocks, create a 1/1 colorless Spirit creature token.
3/4
Illustrated by Titus Lunter
Standard

Legal

Alchemy

Not Legal

Pioneer

Legal

Explorer

Legal

Legacy

Legal

Historic

Legal

Vintage

Legal

Pauper

Not Legal

Commander

Legal

Penny

Not Legal
If you choose to discard a card as The Restoration of Eiganjo's second chapter ability resolves, a second triggered ability goes on the stack and you choose a target for it. Notably, this means you may target the card you discarded if it is a permanent card with mana value 2 or less.

(2022-02-18)

Each face of a transforming double-faced card has its own set of characteristics: name, types, subtypes, abilities, and so on. While a transforming double-faced permanent is on the battlefield, consider only the characteristics of the face that's currently up. The other set of characteristics is ignored.

(2022-02-18)

Each transforming double-faced card in this set is cast face up. In every zone other than the battlefield, consider only the characteristics of its front face. If it is on the battlefield, consider only the characteristics of the face that's up; the other face's characteristics are ignored.

(2022-02-18)

The mana value of a transforming double-faced card is the mana value of its front face, no matter which face is up.

(2022-02-18)
The back face of a transforming double-faced card usually has a color indicator that defines its color.

(2022-02-18)

A transforming double-faced card enters the battlefield with its front face up by default, unless a spell or ability instructs you to put it onto the battlefield transformed or you cast it transformed, in which case it enters with its back face up.

(2022-02-18)

If you are instructed to put a card that isn't a double-faced card onto the battlefield transformed, it will not enter the battlefield at all. In that case, it stays in the zone it was previously in. For example, if a single-faced card is a copy of Azusa's Many Journeys, the chapter III ability will cause it to be exiled and then remain in exile.

(2022-02-18)