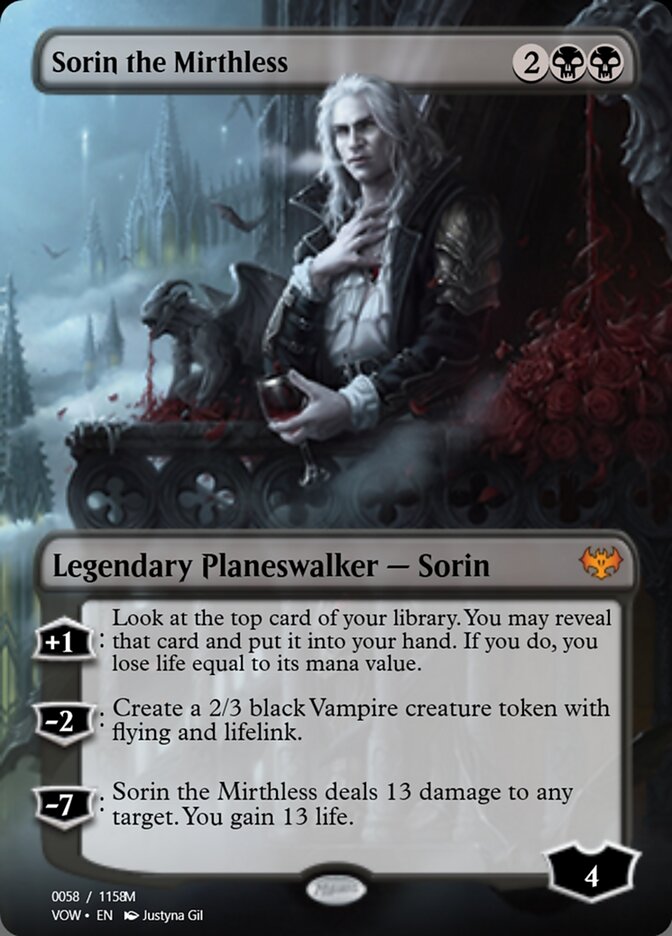 Sorin the Mirthless
{2}{B}{B}
Legendary Planeswalker — Sorin
+1: Look at the top card of your library. You may reveal that card and put it into your hand. If you do, you lose life equal to its mana value.
−2: Create a 2/3 black Vampire creature token with flying and lifelink.
−7: Sorin the Mirthless deals 13 damage to any target. You gain 13 life.
Loyalty: 4
Illustrated by Justyna Dura
Standard

Legal

Alchemy

Not Legal

Pioneer

Legal

Explorer

Legal

Legacy

Legal

Historic

Legal

Vintage

Legal

Timeless

Legal

Commander

Legal

Pauper

Not Legal

Oathbreaker

Legal

Penny

Not Legal
If you choose not to reveal the card you looked at with Sorin's first loyalty ability, it stays on top of your library.

(2021-11-19)