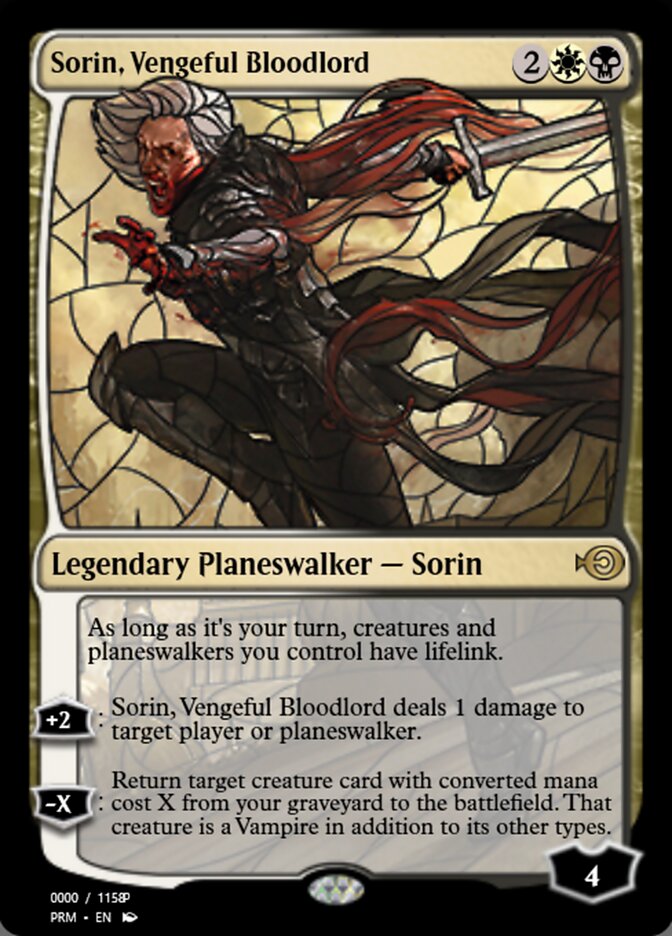 Sorin, Vengeful Bloodlord
{2}{W}{B}
Legendary Planeswalker — Sorin
As long as it's your turn, creatures and planeswalkers you control have lifelink.
+2: Sorin, Vengeful Bloodlord deals 1 damage to target player or planeswalker.
−X: Return target creature card with mana value X from your graveyard to the battlefield. That creature is a Vampire in addition to its other types.
Loyalty: 4
Illustrated by Tommy Arnold
Standard

Not Legal

Alchemy

Not Legal

Pioneer

Legal

Explorer

Legal

Modern

Legal

Brawl

Not Legal

Legacy

Legal

Historic

Legal

Vintage

Legal

Timeless

Legal

Commander

Legal

Pauper

Not Legal

Oathbreaker

Legal

Penny

Legal
Multiple instances of lifelink on the same creature or planeswalker are redundant.

(2019-05-03)

If Sorin leaves the battlefield after you've activated his first loyalty ability during your turn but before it resolves, you'll still gain 1 life as that ability deals damage.

(2019-05-03)
If a card in a graveyard has {X} in its mana cost, X is considered to be 0.

(2019-05-03)