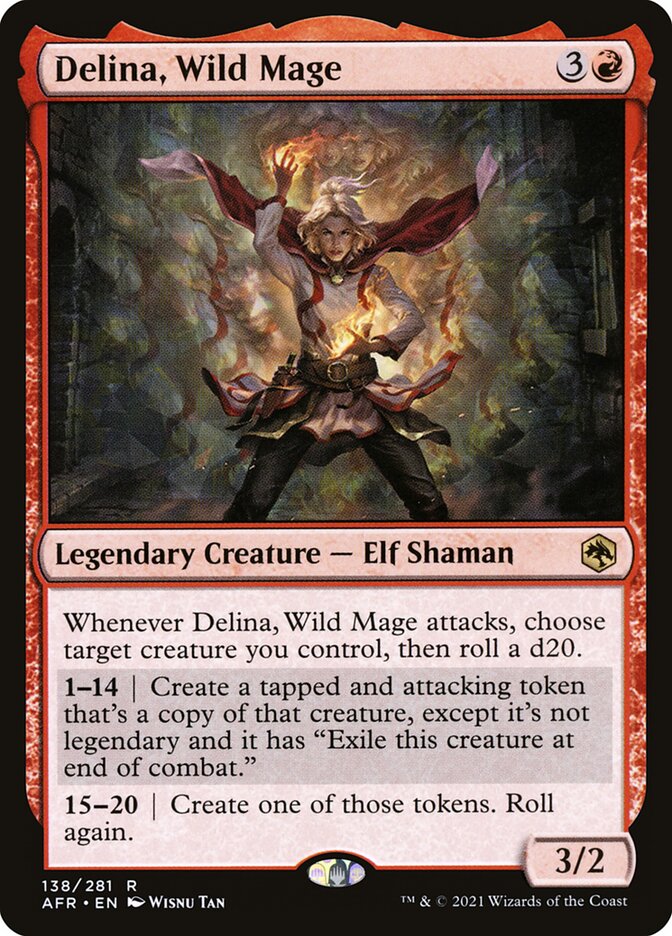 Delina, Wild Mage
{3}{R}
Legendary Creature — Elf Shaman
Whenever Delina, Wild Mage attacks, choose target creature you control, then roll a d20.
1—14 | Create a tapped and attacking token that's a copy of that creature, except it's not legendary and it has "At end of combat, exile this creature."
15—20 | Create one of those tokens. You may roll again.
3/2
Illustrated by Wisnu Tan
Standard

Not Legal

Alchemy

Not Legal

Pioneer

Legal

Explorer

Legal

Modern

Legal

Brawl

Not Legal

Legacy

Legal

Historic

Legal

Vintage

Legal

Pauper

Not Legal

Commander

Legal

Penny

Legal
Day zero errata
The last ability makes rolling again optional, to prevent possible arbitrarily long loops.
Delina, Wild Mage has received an update to its Oracle text. The official text is listed above. Specifically, rolling again on a result of 15–20 is optional.

(2021-07-23)

You declare which player or planeswalker the token is attacking as you put it onto the battlefield. It doesn't have to be the same player or planeswalker Delina, Wild Mage is attacking.

(2021-07-23)
Although the token is attacking, it was never declared as an attacking creature (for purposes of abilities that trigger whenever a creature attacks, for example).

(2021-07-23)