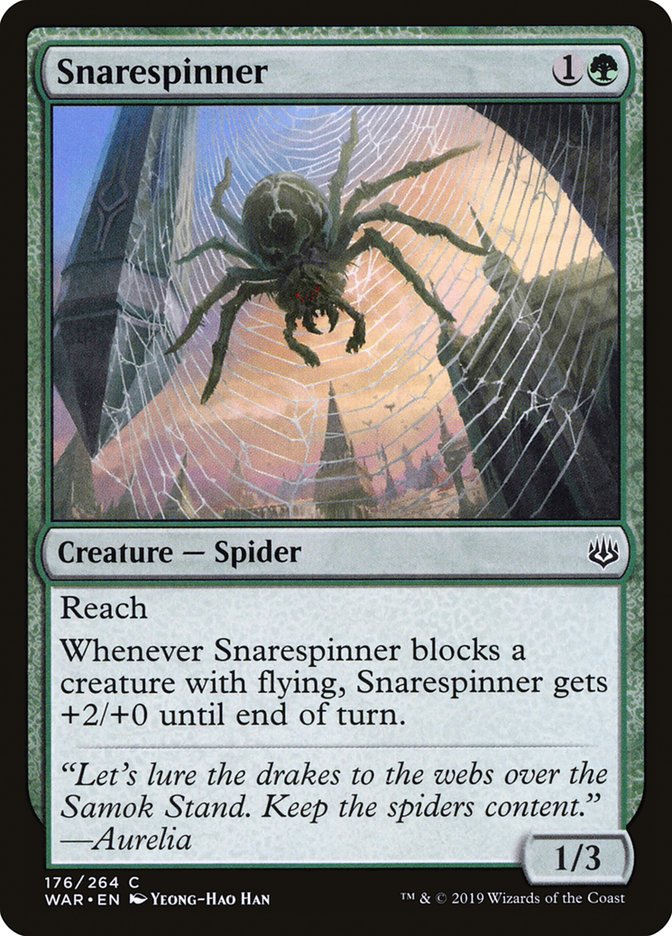 Snarespinner
{1}{G}
Creature — Spider
Reach
Whenever Snarespinner blocks a creature with flying, Snarespinner gets +2/+0 until end of turn.
"Let's lure the drakes to the webs over the Samok Stand. Keep the spiders content."
—Aurelia
1/3
Illustrated by Yeong-Hao Han
Standard

Legal

Alchemy

Legal

Pioneer

Legal

Explorer

Legal

Legacy

Legal

Historic

Legal

Vintage

Legal

Pauper

Legal

Commander

Legal

Penny

Legal
Scryfall Preview
This free preview was provided by Wizards of the Coast for Scryfall to reveal. Thank you!
Notes and Rules Information for Snarespinner:
This free card preview was provided to Scryfall by Wizards of the Coast. Thank you!

(Scryfall note, 2019-04-18)