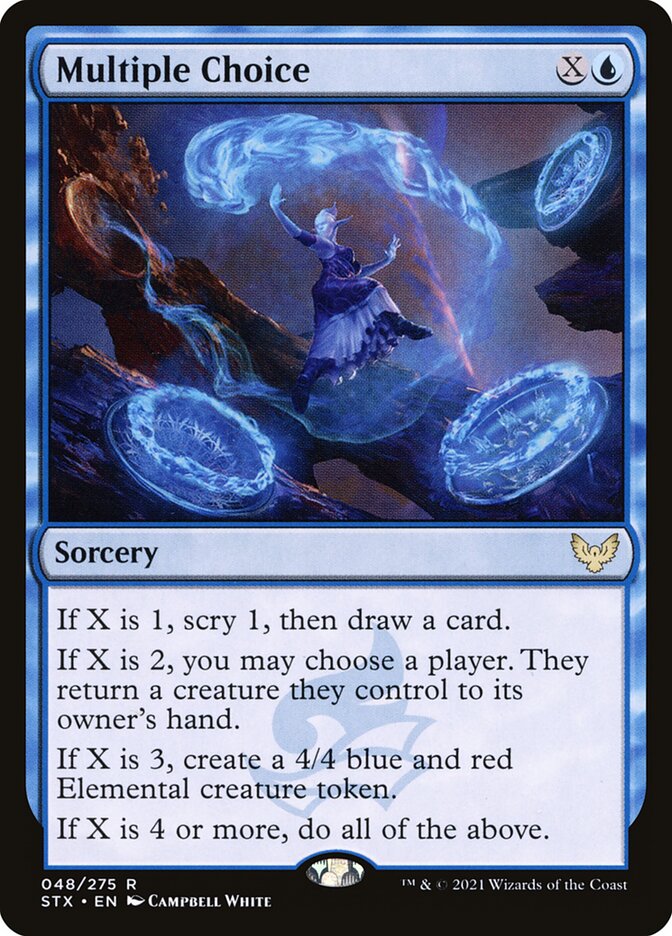 Multiple Choice
{X}{U}
Sorcery
If X is 1, scry 1, then draw a card.
If X is 2, you may choose a player. They return a creature they control to its owner's hand.
If X is 3, create a 4/4 blue and red Elemental creature token.
If X is 4 or more, do all of the above.
Watermark: Prismari
Illustrated by Campbell White
Standard

Not Legal

Alchemy

Not Legal

Pioneer

Legal

Explorer

Legal

Modern

Legal

Brawl

Not Legal

Legacy

Legal

Historic

Legal

Vintage

Legal

Pauper

Not Legal

Commander

Legal

Penny

Legal
Notes and Rules Information for Multiple Choice:
Multiple Choice doesn't have any targets.

(2021-04-16)

Effects that increase or decrease costs are applied after you choose the value of X, and will not impact the results of the spell.

(2021-04-16)
You can choose 0 as the value of X as you cast Multiple Choice, but it will have no effect when it resolves.

(2021-04-16)

If an effect allows you to cast Multiple Choice without paying its mana cost, you must choose 0 as the value of X. Cheating on tests is frowned upon.

(2021-04-16)