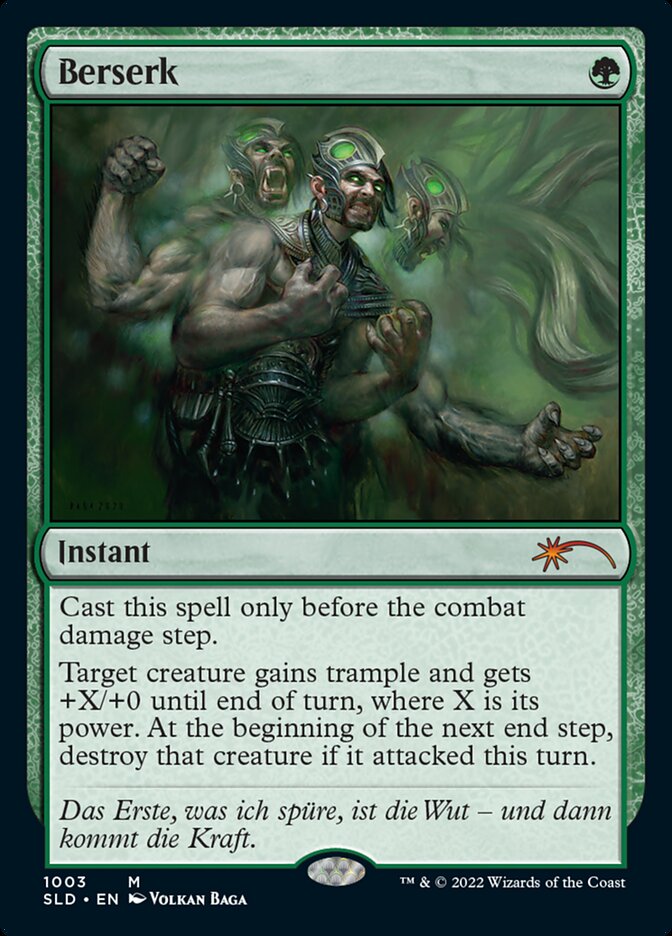 Berserk
{G}
Instant
Cast this spell only before the combat damage step.
Target creature gains trample and gets +X/+0 until end of turn, where X is its power. At the beginning of the next end step, destroy that creature if it attacked this turn.
Das Erste, was ich spüre, ist die Wut — und dann kommt die Kraft.
Illustrated by Volkan Baǵa
Standard

Not Legal

Alchemy

Not Legal

Pioneer

Not Legal

Explorer

Not Legal

Modern

Not Legal

Brawl

Not Legal

Legacy

Legal

Historic

Not Legal

Vintage

Legal

Timeless

Not Legal

Commander

Legal

Pauper

Not Legal

Oathbreaker

Legal

Penny

Not Legal
Notes and Rules Information for Berserk:
If the permanent stops being a creature before the end of the turn, it is still destroyed.

(2004-10-04)