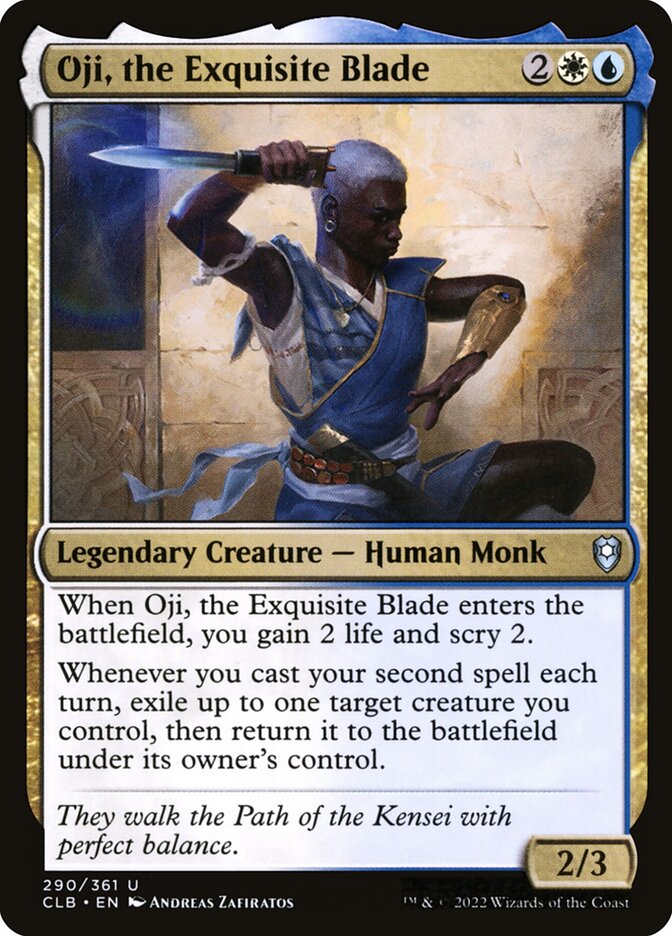 Oji, the Exquisite Blade
{2}{W}{U}
Legendary Creature — Human Monk
When Oji, the Exquisite Blade enters the battlefield, you gain 2 life and scry 2.
Whenever you cast your second spell each turn, exile up to one target creature you control, then return it to the battlefield under its owner's control.
They walk the Path of Kensei with perfect balance.
2/3
Illustrated by Andreas Zafiratos
Standard

Not Legal

Alchemy

Legal

Pioneer

Not Legal

Explorer

Not Legal

Modern

Not Legal

Brawl

Not Legal

Legacy

Legal

Historic

Legal

Vintage

Legal

Pauper

Not Legal

Commander

Legal

Penny

Not Legal
When the card returns to the battlefield, it will be a new object with no connection to the card that was exiled. Auras attached to the exiled creature will be put into their owners' graveyards. Any Equipment will become unattached and remain on the battlefield. Any counters on the exiled creature will cease to exist.

(2022-06-10)
If a token is exiled this way, it will cease to exist and won't return to the battlefield.

(2022-06-10)